Main field of application of the TIG – orbital welding are:
Tube – tube – connections
Tube – formed part – connections
Tube – to – tube-sheet – connections
The TIG-orbital welding is based on the Tungsten Inert Gas Process (TIG), which makes it possible to place energy and if necessary filler metal separately and optimally into the weld. The used pulse technique in this connection allows the controlled fusing and setting of the melting bath, which enables an optimal control about the success of the process in each welding position. Welding connections are inseparably and are the most safe connection of pipelines and formed parts.
The use of the TIG-orbital welding method is a reaction to the groving requirements of the market, which always craves for more high-class welding connections of metal tubes, nevertheless with economic conditions. Not at least especially stainless steels of different qualities and surfaces are popular in the industry. These have to be connected not only with procedoral security, but also suitable to the quality.
Welding connections are irresolvable and represent the most reliable connection of pipelines and moulded parts. The application of the TIG-orbital welding process is a reaction to the increasing demand of the market, which always requires more high-class welding-connections of metal pipes to economic conditions.
Not least especially stainless steels in different qualities and surface finishes are widespread in the industry. These not only have to be connected with reliable processing, but also with the required quality.

Advantages of the orbital welding process:
The orbital welding with the TIG – welding process brings some compelling advantages, which look like this:
High procedoral security
High reproduction-capability
Short process times
Little creation of oxide
Highest quality of the weldseam
Absolutely reproductive welding results
Serviceable also with manually not accessible welding point
Lowest contamination of the medium with foreign particles
Thanks to automated welding more economic production
Wide application field thanks to good adaptabiliies
Capable for documentation (ISO 9000)
Suitable for assembly and site
Basic conditions:
To guarantee a reproducible TIG – orbital weld, the following basic conditions are important:
Trained employees (knowledge of the standard TIG-welding technique)
Quality and tolerances of the components which have to be welded
Ambience
Type and quality of the welding- and forming gas
Prefabrication of the tungsten electrode
Optimal weld preparation and positioning accuracy
Cleanliness
Knowledge of the chemical analysis of the parts which have to be welded, in connection with the expectable irregularity
Calculated and tested welding programs
A standard orbital welding system consists of three system parts:
Welding power source
Orbital welding tools with closed or open style of construction
Cold wire unit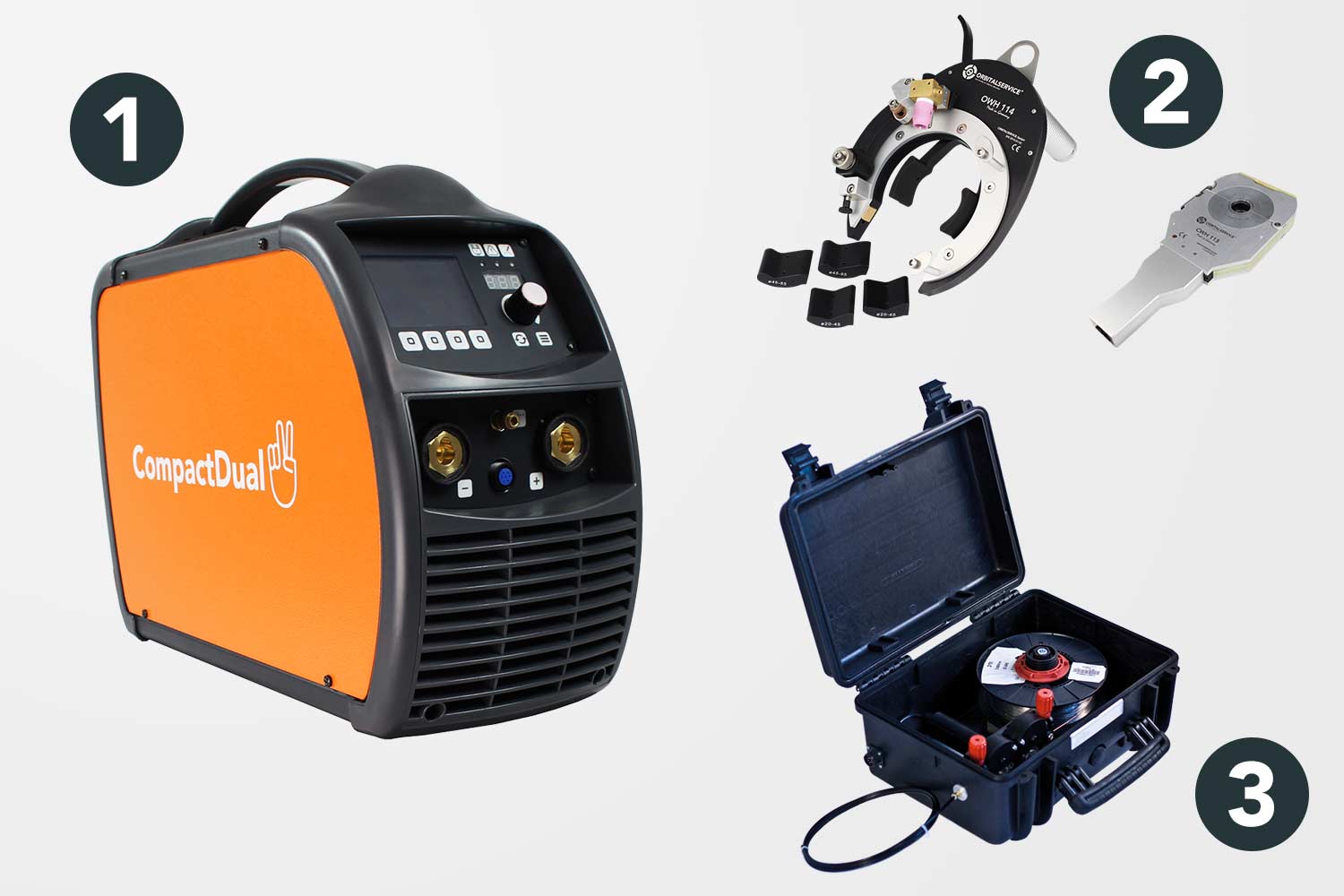 Do you have questions about our products or would you like an individual offer? Please do not hesitate to contact us.